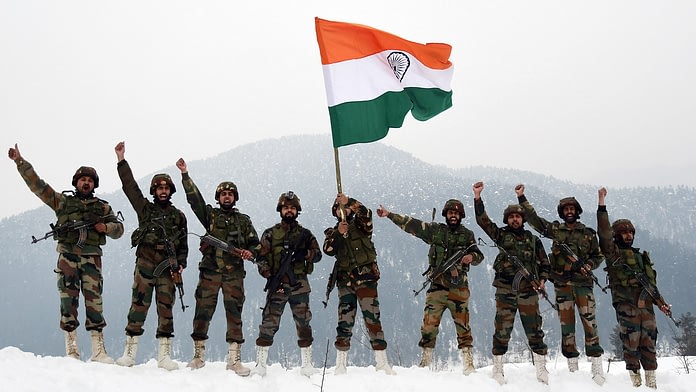 The Indian Army is the land based branch and the largest component of the Indian Armed Forces.
Its primary mission is to ensure the national security and defense of the Republic of India from external aggression and
threats, and maintaining peace and security within its borders.
Size :
Active personnel : Around 1,129,900
Reserve personnel : Around 960,000
Aircraft : 315
Tanks : Around 3500
Moto : Service Before Self
Indian Army Day : 15 January
Chief of the Army Staff : General Manoj Mukund Naravane
Chief of defense staff : General Bipin Rawat
Headquarters : New Delhi, India
Rank Structure
Commissioned ranks
Field Marshal
General
Lieutenant General
Major General
Brigadier
Colonel
Lieutenant Colonel
Major
Captain
Lieutenant
Junior commissioned ranks

Subedar Major
Subedar
Naib Subedar
Non-commissioned rank

Havildar
Naik
Lance Naik
Sepoy
Commands –

The army operates 7 operational commands. Each command is headed by General Officer with the rank of Lieutenant General. Each command is directly affiliated to the Army HQ in New Delhi.
Central Command headquartered : Lucknow, Uttar Pradesh
Eastern Command headquartered : Kolkata, West Bengal
Northern Command headquartered : Udhampur, Jammu and Kashmir
Southern Command headquartered : Pune, Maharashtra
South Western Command headquartered : Jaipur, Rajasthan
Western Command headquartered : Chandimandir
Training Command headquartered : Shimla, Himachal Pradesh
Structure
Field formations –
The basic field formations of the Indian Army:
Command: Indian Army has 6 operational commands and 1 training command. Each one is headed by a General Officer known as Army Commander, who is among the senior-most Lieutenant General officers in the army.
Corps: A command generally consists of two or more corps. Indian Army has 13 Corps & each one is commanded by a General Officer who holds the rank of Lieutenant General. Each corps is composed of 3–4 Divisions
Division: Each Division is headed by Major General. It usually consists of 3 to 4 Brigades. Currently, the Indian Army has 37 Divisions. There are 18 Infantry Divisions, 10 Mountain Divisions, 3 Armored Divisions and 2 Artillery Divisions.
Brigade: A Brigade generally consists of around 3,000 combat troops with supporting elements. An Infantry Brigade usually has 3 Infantry Battalions along with various Support Elements. It is commanded by a brigade commander who is a Brigadier. In addition to the Brigades in various Army Divisions, the Indian Army also has 5 Independent Armored Brigades, 15 Independent Artillery Brigades, 7 Independent Infantry Brigades, 1 Independent Parachute Brigade,3 Independent Air Defense Brigades, 2 Independent Air Defense.
Battalion: Composed of four rifle companies. Commanded by a battalion commander who is a Colonel and is the Infantry's main fighting unit.
Company: Composed of three platoons. Commanded by a Company Commander who is a Major or Lieutenant-Colonel.
Platoon: Composed of three sections. Commanded by a Platoon Commander who is a JCO.
Section: Smallest military outfit with a strength of 10 personnel. Commanded by a Section Commander of the rank of Havaldar.
Equipment
Tanks :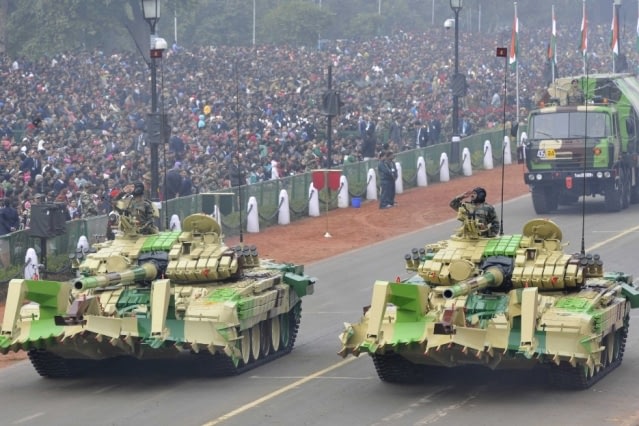 Arjun MBT
T-90
T-72
Aircrafts :
HAL Rudra
HAL Dhruv
HAL Cheetah
HAL Chetak
Missiles :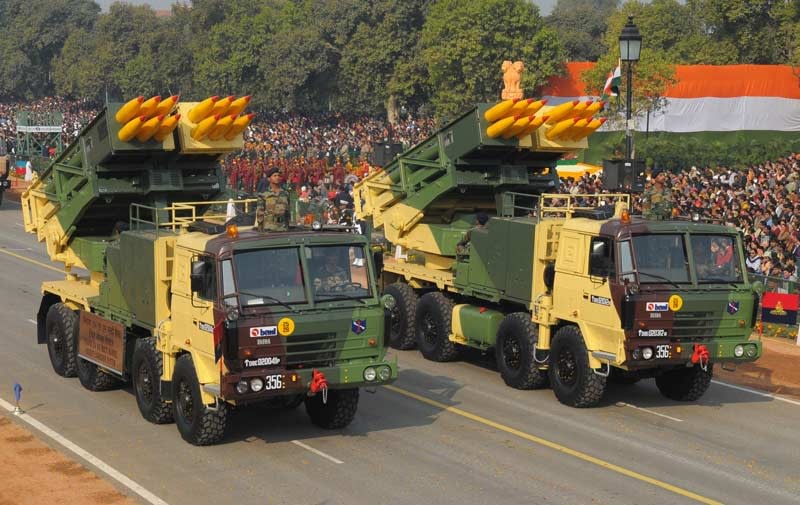 Ballistic Missiles
Agni-V – 5,000 km-8,000 km range
Agni-VI – 8000–12,000 km range
Prahaar missile
Shaurya missile
Cruise Missiles
Hypersonic missile
Nirbhay Missile
BrahMos Missile
Anti-Tank Guided Missile
Nag Anti-tank guided missile – ground and air-launched variant.
Training :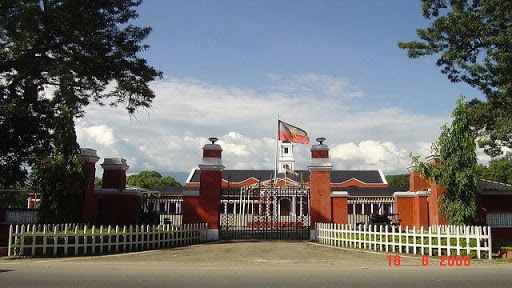 National Defence Academy(NDA) : Pune
Indian Military Academy(IMA) : Dehradun
Officers Training Academy(OTA) : Chennai and Gaya
Wars fought by Indian Army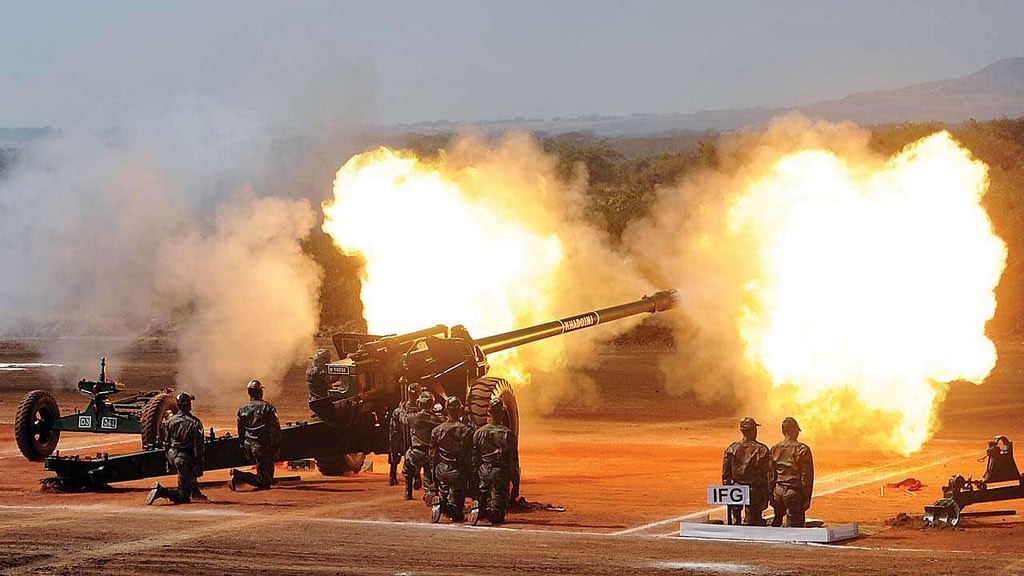 1962 : India – China war :- Only war that Indian Army has lost till date and lost its territory Akshi chin as well .
1965 : Indo – Pak war :- India won the war and as result of which India also captured Pak territory i.e Lahore but Later India Sign Tashkent Agreement and gave Lahore back to Pak.
Tashkent Declaration Signatories: Lal Bahadur Shastri (Prime Minister of India) and Muhammad Ayub Khan (President of Pakistan)
1971 : Bangladesh Liberation War :- As the East Pakistan was always under the pressure of West Pakistan so in order to help peoples of East Pakistan, The Indian Army fought war against West Pakistan and with the help of Soviet Union, made East Pakistan a new country as Bangladesh.
1999 : Kargil war :- India faught war with Pakistan and again defeated Pakistan and Indian territory freed from Pakistan which was illegally occupied by Pakistan solider.
*Indian Army has a record of winning all its wars against Pakistan.
Special Forces Of Indian Army
Para commando is the special force of Indian Army .
Also read:https://www.newindianexpress.com/topic/Indian_Army
Also read:https://factstunnel.org/top-10-richest-film-star-of-the-world/
Also read:https://factstunnel.org/10-facts-about-dassault-rafale-missiles-in-rafale/