The Dassault Rafale which means "gust of wind" or "burst of fire" in a military sense. Missiles in Rafale is one of the main reason that why it is so special fighter jet. It came into existence in 2001, made by Dassault Aviation for French Air force and Navy.
TOP 9 FACTS
1. Engine of Rafale
The Rafale uses a Powerful and Reliable Snecma M-88 ( twin engine ) French made engine which is developed by Safran aircraft engines for the Dassualt Rafale fighter jet .
Type: Afterburning
Length: 353.8 cm (139.3 in)
Diameter: 69.6 cm (27.4 in)
Maximum Thrust: 50 KN
2. Capabilities of Rafale
The Rafale is specifically designed to perform air supremacy, aerial reconnaissance, ground support, in-depth strike, anti-ship strike and is even capable for nuclear deterrence missions. So the aircraft is referred to as an "omnirole" fighter aircraft by Dassault. It is said to be one of the most modern 4th generation aircraft and has the capability to carry a mix of armament to deliver them accurately as well. Rafale has air-to-air refueling capabilities and can even refuel another aircraft in buddy mode.
Top speed: 1,389 km/hr
Range: 3,700 km
Weight: 9,979 kg
3. Generation of Rafale
Rafale is a 4.5 generation jet with Delta-wings . This fighter jet also carries semi-stealth capabilities so can execute nuclear attacks . The aircraft has shown its power in countries like Afghanistan , Iraq , Syria and Libya in various missions.
4. Missiles in Rafale
The rafale carries a large number of weapons and these includes the missiles like MICA , METEOR and HAMMER missiles and has the capability to carry up to six air-to-air missile and six specialists bombs.
Missiles in Rafale
The MICA air-to-air "Within Visual Range" for close combat. Range of MICA is around 80 km.
The METEOR air-to-air " Beyond Visual Range" missile with a range of around 150 km.
The HAMMER air-to-ground " Beyond Visual Range " missile with range of around 300 km.
The SCALP is the long-range cruise missile in Rafale.
5. Combat Radius of Rafale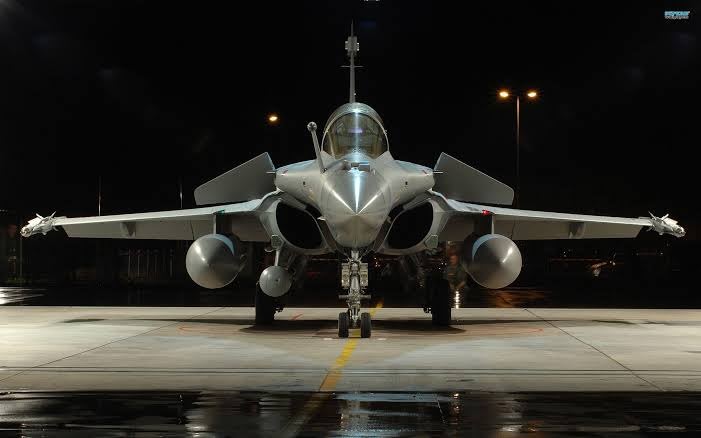 Rafale's Combat Radius is 3700 kilometers while that of Chinese J-20 is 3400 kilometers. Combat Radius means the distance a fighter plane can go from its base without refueling the aircraft and this factor plays a major role while combating.
6. Users of Rafale
The primary user of rafale is French Air force and navy and along with that other countries like the Egypt, Qatar had also shown their interest in the aircraft. Recently the 5 Rafale jets have also been delivered to Indian Air Force. India is the fourth country, to have its fleet with the Rafale fighter jets. Rafale is also the second French fighter, that our Indian Air Force will have in its fleet.
7. Radar used in rafale
The Radar used in Rafale is developed by Thales, ad have "Front Sector Optronics" (FSO) system is fully integrated into the aircraft. Operating in the optronic wavelengths, it is immune to radar jamming and it provides covert long-range detection and identification, high resolution angular tracking and laser range-finding for air, sea and ground targets and can detect more than 15 enemy target at a time.
8. Rafale Deal In India
On 31 January 2012, the Indian Ministry of Defense announced that Dassault Rafale had won the MMRCA competition to supply 126 aircraft for the Indian Air Force. The first 18 aircraft were to be supplied by Dassault Aviation fully built and the remaining 108 aircraft were to be manufactured under license by Hindustan Aeronautics Limited with a transfer of technology from Dassault.
But later the figures change to 36 with a hiking in the price and that was the main reason political controversies started over the deal. In December 2018 the Supreme Court upheld the Rafale deal, stating that no irregularities or corruption have been found in the Rafale deal.
9. Posting of Rafale in India
The first batch of five Rafale jets out of total 36 have reached India and they have been selected to be part of 17th squadron "Golden Arrows" in Ambala Air Force station.
Ambala in Haryana and Hasimara in West Bengal Air force stations have been selected for Rafale as these are strategic positions to counter countries like China and Pakistan.
Missiles in Rafale is one of the reason that why Indian Air Force (IAF) include Rafale in their "Fighter's gang".
Also Read: https://factstunnel.org/top-10-fighter-jets-in-the-world-2/
Also read: http://www.air.met.com